Bringing in Biophilia
Date: 30 August 2021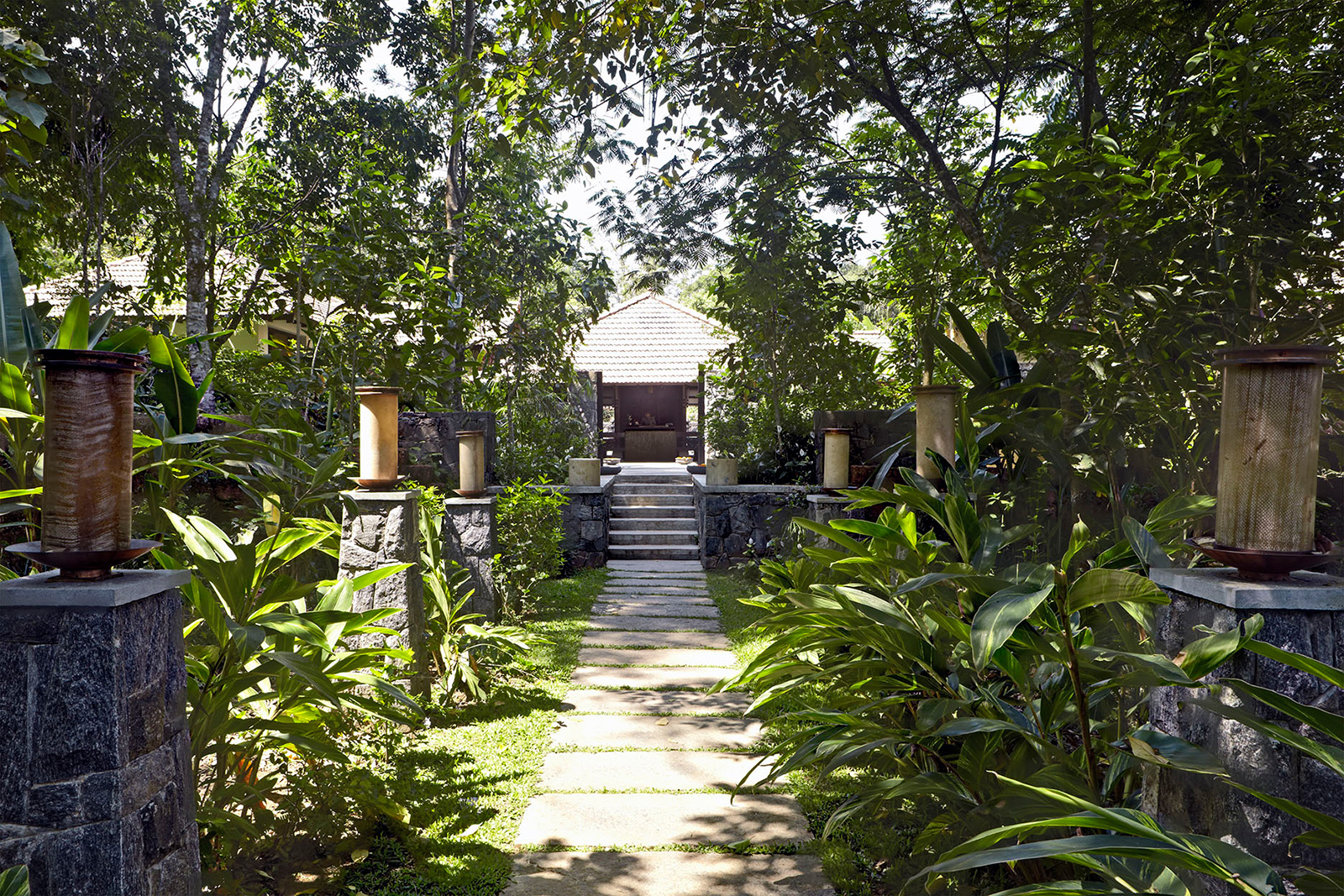 Across the globe, the rate of urbanisation is accelerating today. As our cities and towns become larger and denser, open, green spaces in urban areas are increasingly shrinking -- from courtyards and balconies in single-family homes and offices to landscaped plazas and parks in neighbourhoods.
According to the United Nations, more people live in cities today than ever, about half of the world's population, a number that is projected to grow to more than two-thirds by 2050. That translates to billions of people largely living indoors or navigating through concretised urban environments with no meaningful access to nature and its rejuvenating effects. This begs an important question: Are we staring at an insidious public health emergency in the near future?
Biophilia, a hypothesis put forward by noted American biologist Edward O. Wilson in 1984, states that humans possess an innate tendency to seek connections with nature and other forms of life. The lack of such connections has been linked, in recent years, to adverse effects on our physiological and psychological well-being. Sick Building Syndrome (SBS), for instance, is a health condition that is scientifically proven to afflict people living or working in poorly designed buildings -- buildings with inadequate natural light and ventilation.
It is essential for architects and planners, therefore, to design buildings and neighbourhoods in a way that closely integrates them with nature.
This could create peaceful and placid built environments, helping elevate the physical, emotional, and psychological well-being of people. While building programmes and designs may vary across different typologies, landscapes, and climates, biophilic elements can be easily integrated into all in numerous ways. In residential townships and apartment buildings, for instance, balcony gardens that open up vistas to vast, landscaped courts considerably help uplift the well-being of residents. These green spaces also create a comfortable microclimate and are beneficial in regulating temperatures and natural ventilation.

Image 2 & 3 : Balador Athena in Talegaon, Pune, by IMK Architects, offers apartments with large windows and balconies that overlook a stepped, central courtyard with lush plants and trees. © Sulekha Advertising
Hospitality projects can also be designed similarly to incorporate green spaces across various levels such that these spaces promote rejuvenation and relaxation while also maintaining privacy. Each room should be planned with a balcony or picture window that looks into gardens or verandahs, creating spaces that are in harmony with their natural context.
When it comes to commercial and office spaces, design strategies such as terraced gardens, landscaped atriums, and designing visual connections with the outdoors help create a positive work environment, enhancing the productivity of the workforce, as well as lowering operational energy requirements.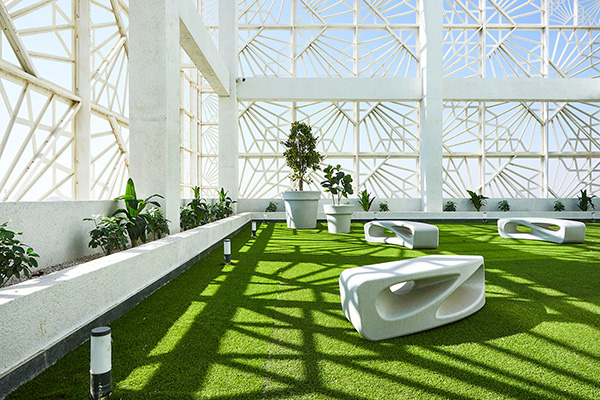 Image 4 : The design of the AURIC Hall in Aurangabad ensures that every workspace has access to multiple terraces, either outdoor green terraces or indoor cantilevered terraces, encouraging interaction and allowing the users of the building to thrive. © Rajesh Vora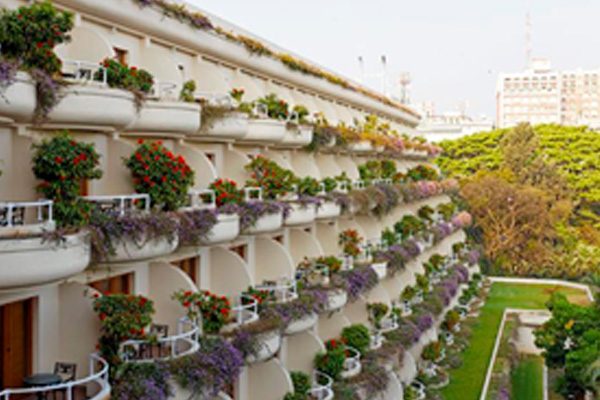 Image 5 : The Oberoi in Bangalore takes cues from the city's tryst with nature. The property's 176 rooms face inwards, oriented towards the 3-acre central garden to promote rejuvenation and inspire a sense of solitude.
Collaboration and peer interaction are vital to fostering one's academic career today. Learning environments such as schools and universities, therefore, can be punctuated with landscaped courtyards and verandahs to create spill-out activity zones that nurture long-lasting friendships as well as the students' association with nature. Most importantly, it is crucial to ensure healing spaces such as hospitals and clinics are immersed in nature -- trees, water bodies, ample light and ventilation -- to foster wellness and holistic recuperation
At the recently designed Symbiosis University Hospital and Research Centre in Pune, for instance, every ward and patient room is connected to the outdoors which promotes healing. Two large courtyards within the building create buffer zones that help aid the healing process by bringing in ample natural light. A prominent central courtyard transforms the space around it, creating a calm oasis for patients and medical professionals alike.
This is the cornerstone of our practice at IMK Architects -- to create vibrant, biophilic, ecologically-sensitive spaces where lives flourish and activities thrive.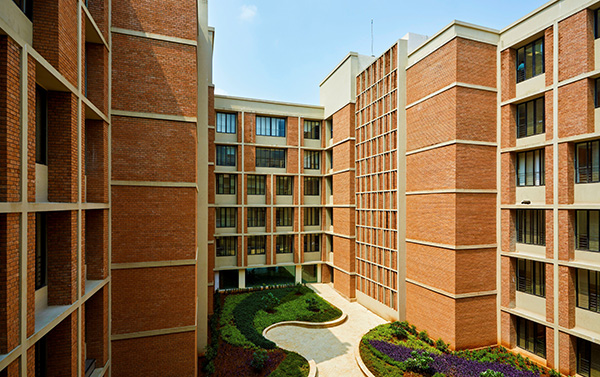 Image 6 : Allowing nature to be a part of the hospital and integrating it as a comforting element for the patients, the Symbiosis University Hospital and Research Centre creates a vibrant healing ecosystem for recovery and rejuvenation. © Rajesh Vora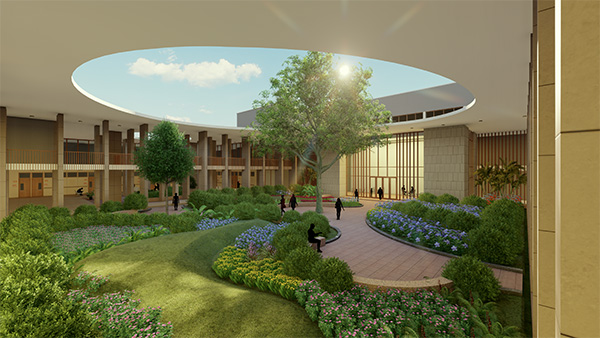 Image 7 : At the upcoming D.Y. Patil University Rural Health Training Centre, Theur, Maharashtra, the design seeks to entwine biophilic elements within a medical environment by planning the spaces around two vast courtyards with singly-loaded corridors opening up into landscaped areas. These courtyards are designed to bring abundant natural light and ventilation into all the departments, which will help reduce cross-contamination and the spread of infections.