Fostering Learning and Interaction Through Design
Date: 20th June 2023
IMK Architects' Approach to Campus Design and Masterplanning
Spend some time on any university's campus, and you'll get a sense of how the built environment fosters its expression and culture.
The purpose of a campus is to establish a coherent and far-reaching vision that aligns with the institution's academic objectives and caters to the needs of students. A successful campus, however, goes beyond and invites students not only to learn but also to engage with the world around them.
At IMK Architects, we approach the master planning of a campus with a multifaceted perspective, taking into account a range of factors – from the intended purpose of the campus, and the characteristics of the site, to the preferences of the students involved. By considering the multiple elements and how they influence students' experiences, we strive to create a cohesive plan that maximizes the potential of the campus while remaining true to the institution's values.
Knowing it All: Site Analysis
In his book, The Architecture of I. M. Kadri, which explores IMK Architects' works, Kaiwan Mehta, raises an important question, "What would one want from a campus? Indirectly, what is it that we look forward to in an educational campus, as a space and building?"
At IMK Architects, we answer this and similar other questions by analysing the site thoroughly. This allows us to tailor our approach to the site's distinctive features and optimise its potential while minimizing challenges.
Whenever we start working on a campus master plan in our studio, we keep a detailed examination of the site at the forefront. This analysis provides a holistic understanding of the physical and environmental context of the site, including the area's social and cultural context, climate, demographic data, historical significance, and local design standards.
At Symbiosis International University, Lavale, one of our world-renowned campuses, a comprehensive analysis of the site's topography, soils, hydrology, vegetation, and other physical features played a critical role in the design development of the master plan. This ensured that the design of the campus is well-integrated with the surrounding context.
Through this detailed analysis, we effectively minimized the need for cut-and-fill, and the built structures were positioned along the site's natural contours, using the excavated soil and stones for construction purposes. The buildings were strategically placed to take advantage of the panoramic views of the valley.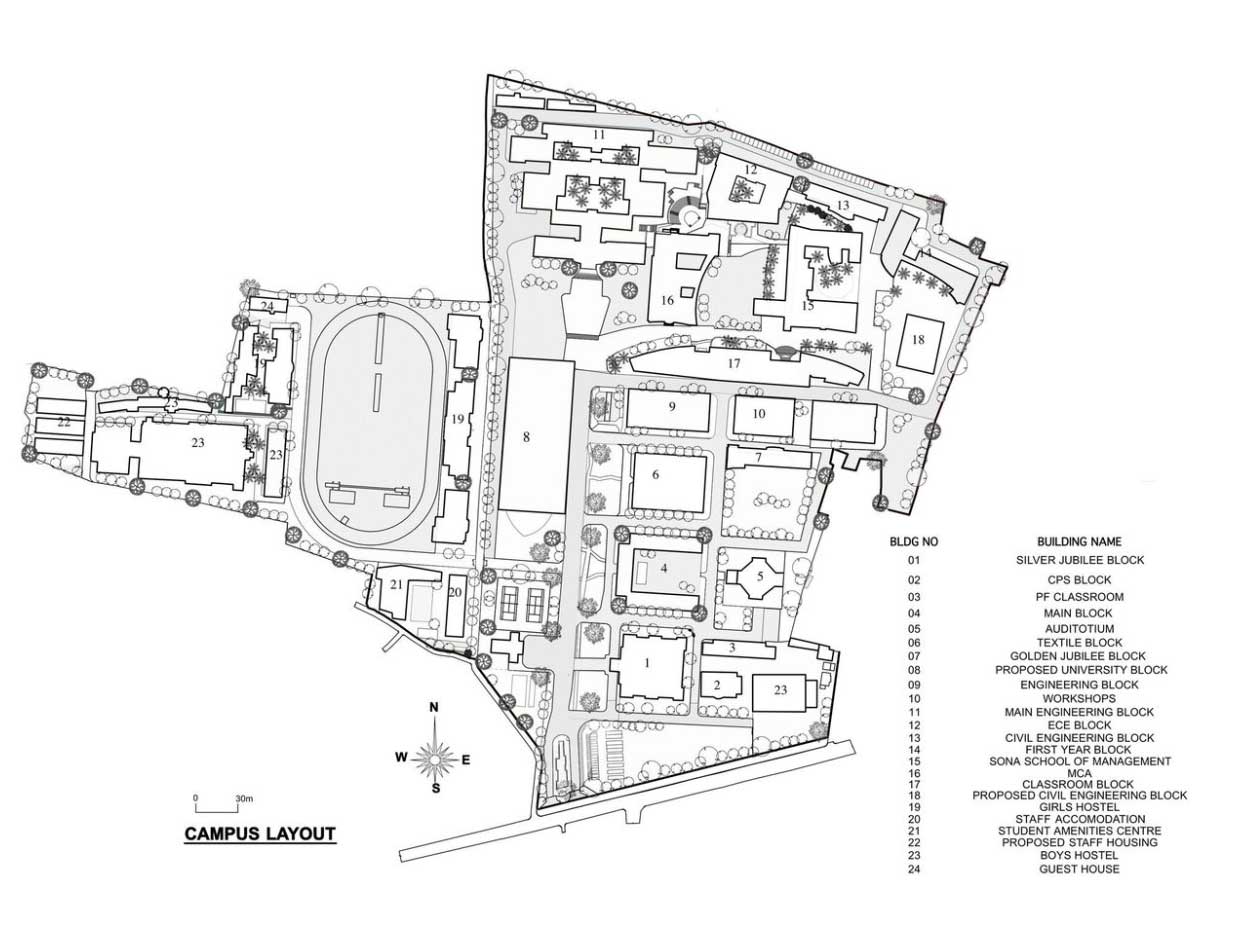 Sona College of Technology, Tamil Nadu
Connect with the Community: Zoning
Many of the learning environments we see today still follow the 19th-century model, with individual classrooms arranged linearly and designed to function in a specific way. However, this no longer aligns with the modern-day approach to education.
Breaking this rigid notion, Partner and Principal Architect, Rahul Kadri, suggests "designing spaces that allow for multiple modes of learning." A lot of learning happens outside the classroom. "Getting involved outside the classroom, engaging with people from diverse educational and cultural backgrounds can enrich a student's life and enhance the overall growth and development," he says.
Creating a functional and efficient campus that meets the needs of its students, faculty, and staff requires successful zoning. This ensures that each area of the campus is used in the most appropriate way, based on physical conditions such as highland or lowland, resulting in both active and passive (quiet) zones.
A campus can typically be categorized into three zones: academic block, student housing, and recreational activities. It's not enough to simply designate these zones in a campus master plan. We aim to connect them physically and visually to create a unified, positive environment for students to build strong relationships, work together, and generate new ideas.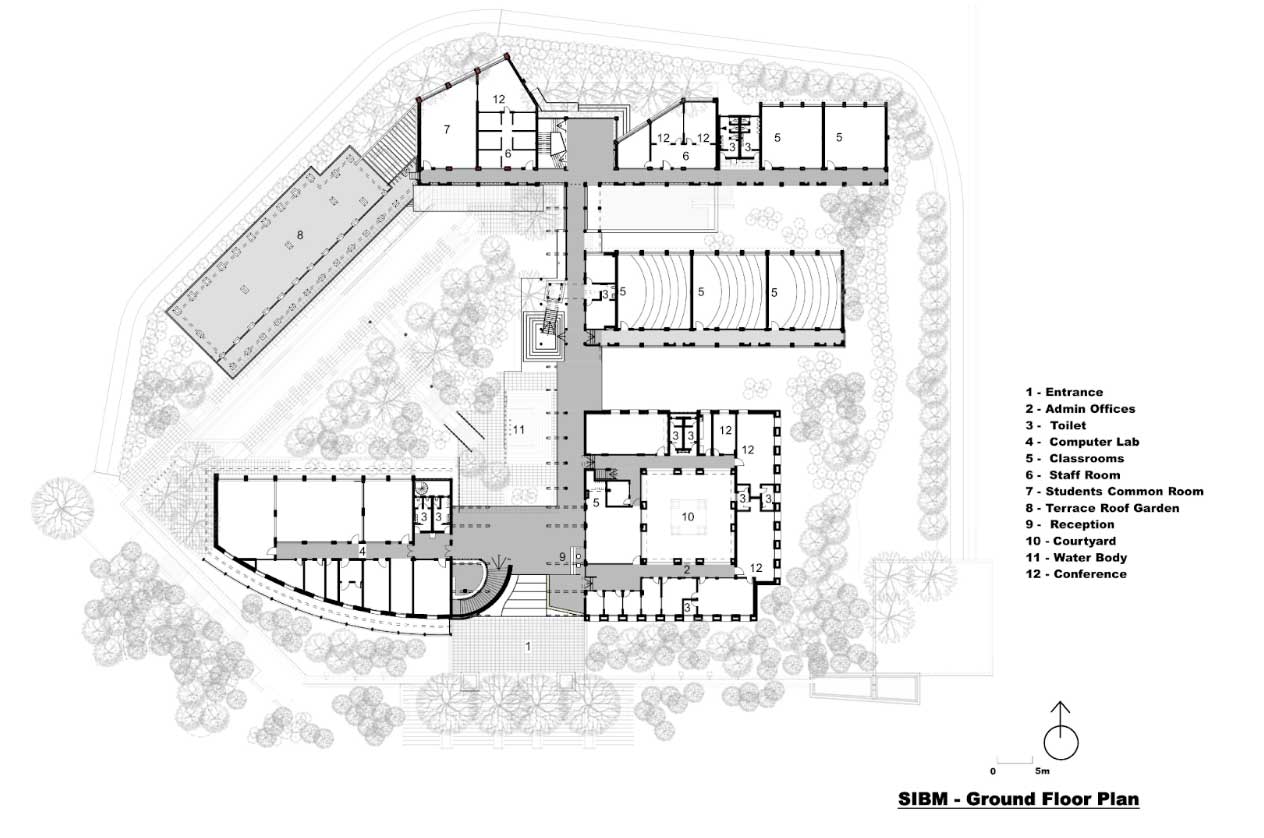 Generally, our campuses are organized around a 'central spine' – a promenade that connects major social and congregation spaces, serving as the activity hub. These hybrid environments facilitate positive relationships within the campus community and provide opportunities for creative expression.

Alliance: Design Planning
As we collectively search for solutions for building resilient learning environments, we can't overlook orientation, which determines the success of the planning of campuses. By maximizing or minimizing solar gains and losses, a building's orientation can effectively reduce energy consumption and ultimately enhance the learning environment for students.
Rahul Kadri points out four factors – adequate light, good acoustics, comfort of a student and robust buildings as the driving forces in a well-designed campus.
For instance, at the Symbiosis International University, the academic building is oriented in the north-south direction to ensure a positive learning environment. This position maximizes natural light while minimizing direct glare, reducing the need for artificial lighting during the day and leading to cost savings through lower energy consumption. Additionally, corridors are designed with double walls and deeper overhangs to provide shading for classrooms and protect them from harsh southern light.
Conversely, student housing is oriented in an east-west direction. This helps to balance heat gain and loss, resulting in more comfortable living conditions for students throughout the day.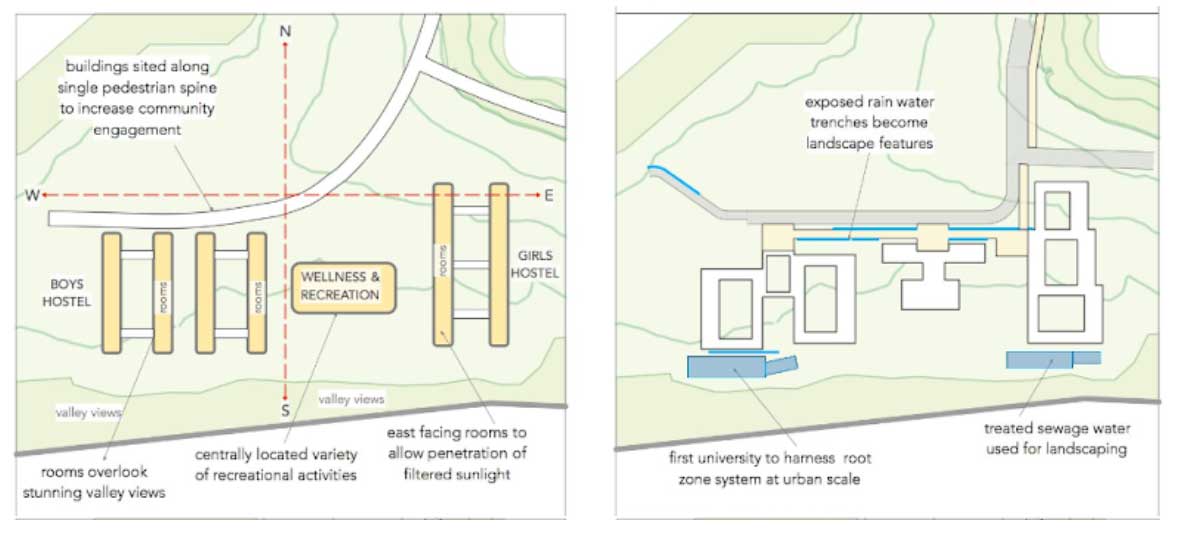 Connecting these two, the campus master plan incorporates multiple spillage and interaction areas in the form of courtyards located between buildings.
"When considering a campus setting, it's likely that the areas that foster the most creativity and leave a lasting impression are always the shared spaces," says Rahul Kadri.
From the outset, the goal is to incorporate activity hubs that are designed with a variety of spatial qualities, unique forms of various scales, and textural materials, including outdoor and semi-outdoor spaces. This approach is intended to encourage social engagement between students and faculty.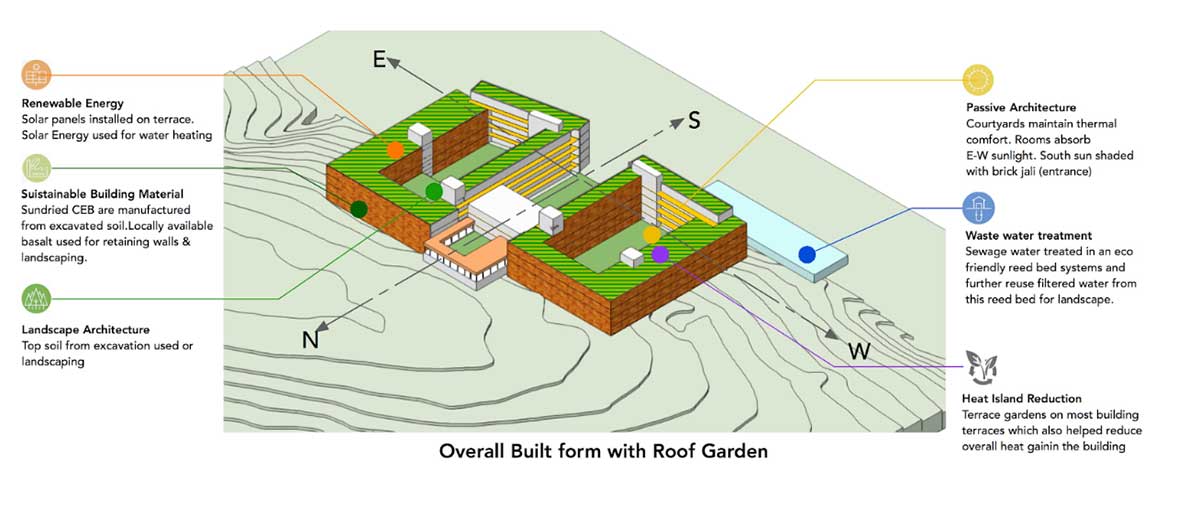 Connections and Identities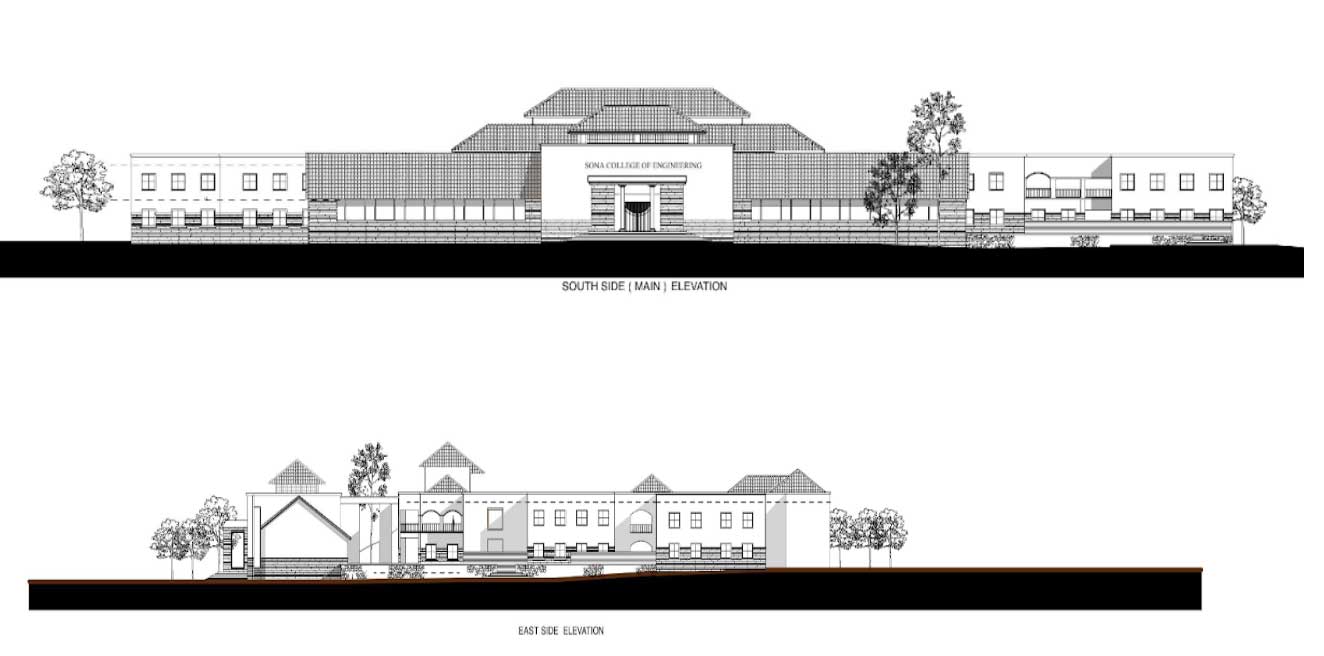 "The corridors in a campus are never just movement channels, they are that too… but a corridor is where you 'hang out', share notes, study before an exam or prepare for a presentation; a corridor is also where you connect with the world," notes Kaiwan Mehta.
This simple philosophy roots our design, that fosters social interactions and builds common community spaces such as nodes, pedestrian walkways, courtyards, corridors, and staircases become the non-negotiable social engagement points.
Well-designed passages and nodes not only facilitate movement around the campus but also contribute to its aesthetic quality, creating a sense of place and identity. These elements can enhance the overall experience of being on campus and promote a sense of belonging and ownership.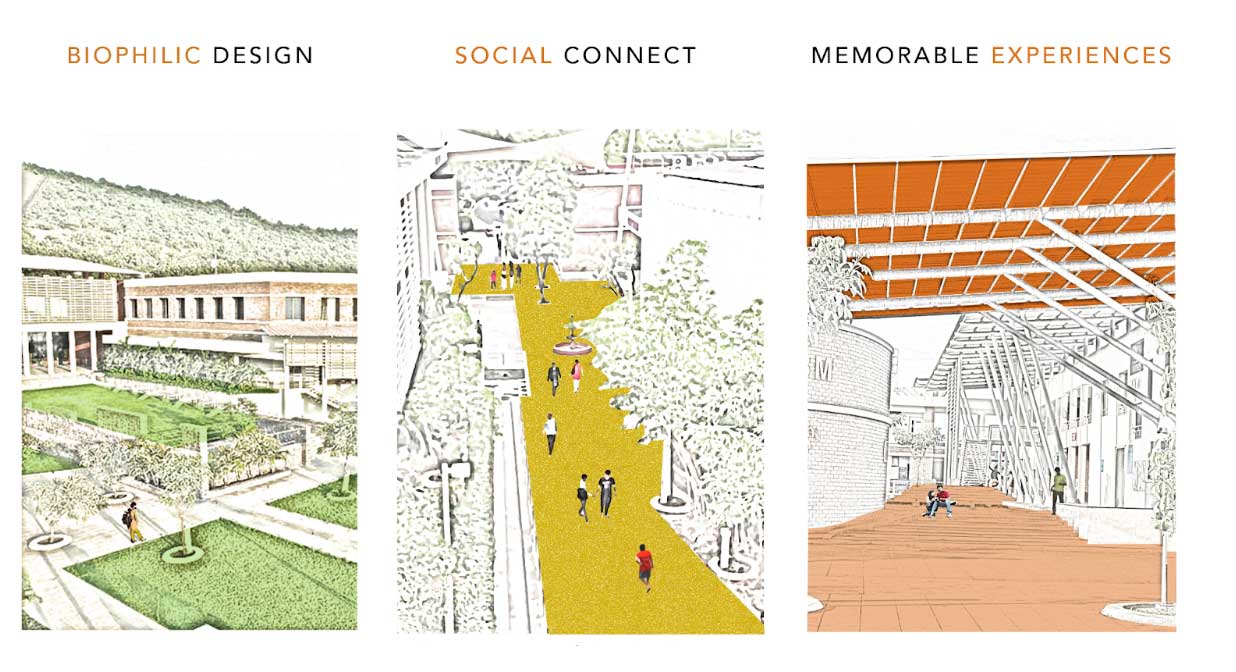 Sustainable Design is Often the Best Design
Sustainability is a long term vision. Being a top priority in campus master planning, it can be achieved by designing buildings with energy-efficient systems, including efficient Heating, Ventilation and Air-Conditioning (HVAC) systems, insulation, and lighting.
Incorporating renewable energy sources, such as solar panels, wind turbines, and geothermal systems, can also reduce reliance on non-renewable energy sources and carbon footprint of the campus.
At Symbiosis International University, Lavale, these principles are integrated into the campus design, with the use of indigenous materials, such as CSEB (Compressed Stabilized Earth Block), certified wood, recycled materials, and low-emitting products.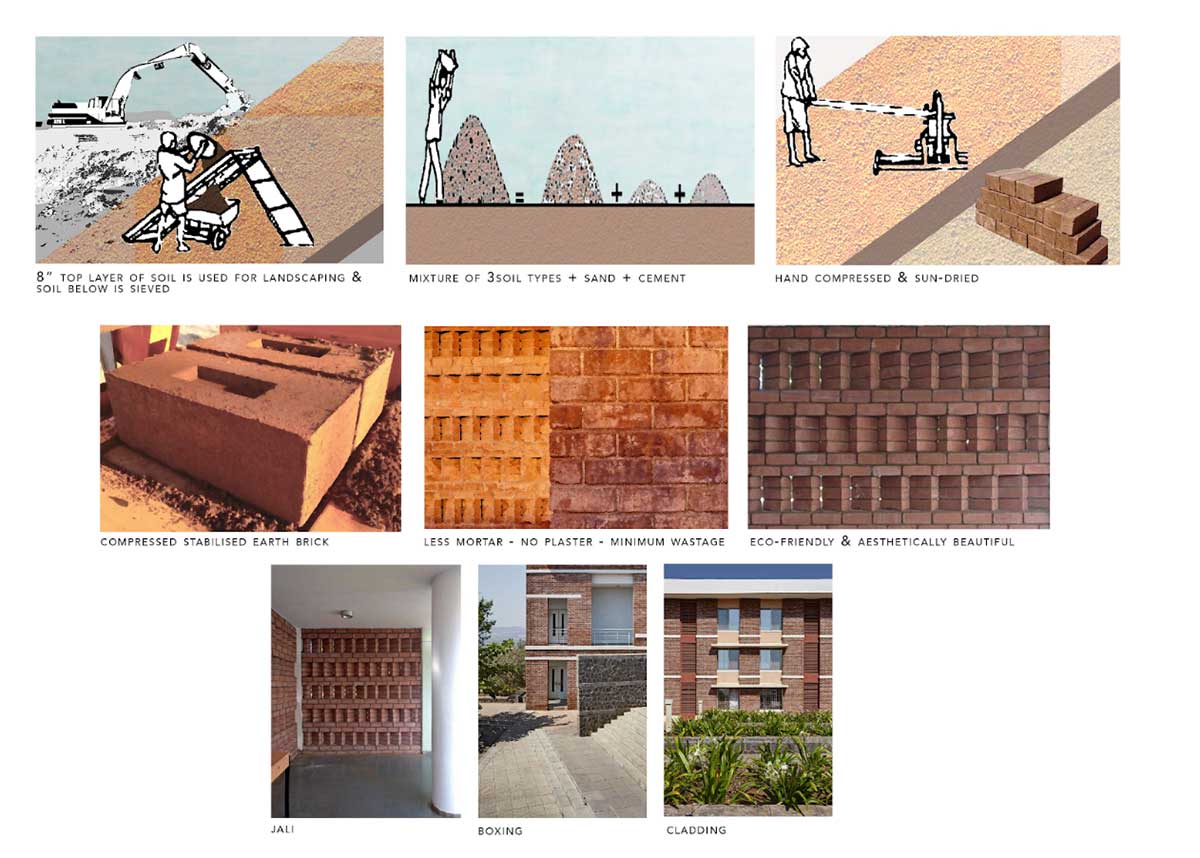 At the overall master plan level, the steep site gradient presented a challenge that was turned into an opportunity by channeling and harvesting rainwater into a reservoir for reuse. The water channels running through the site not only provide a source of water but also helped maintain thermal comfort in an otherwise dry region.
Furthermore, a reed bed was included to provide a natural filtration system for rainwater harvesting, treating and reusing greywater. The project sets an example of how the environmental impact of even a high density campus can be reduced and sustainability can be promoted.
At IMK Architects, we have successfully integrated these principles into our design of university campuses for esteemed educational institutions like Symbiosis Society and Sona College of Technology, creating spaces that encourage friendships, collaboration, and learning.