The Indian Express |
How biophilic and interactive design interventions could help make hospitals pandemic-proof
June, 2020

India's hospital bed ratio of 0.9 beds per 1000, in contrast to the recommended two beds per 1000 has always been problematic. But the COVID-19 pandemic has spotlighted this scarcity, with patients forced to travel from hospital to hospital searching for beds and many dying before finding a vacant one. Mumbai-based Rahul Kadri, Partner and Principal Architect, IMK Architects is of the opinion that better designing of hospitals as well as using energy-efficient materials and technologies for improved construction can help improve the healthcare system in India.
A better design concept allowed his firm's ongoing project, the Symbiosis University Hospital and Research Centre, at Pune Maharashtra, to be converted into a COVID-19 treatment facility. Kadri gives more details of how this was possible and explains his design philosophy of how biophilic and interactive design interventions could help in improving the standards of public healthcare even in rural areas while regulating construction costs.
In an interview with Viveka Roychowdhury, he explains more…
How can good design be made affordable for public health facilities in rural and semi-rural areas?
Adding a layer of primary healthcare fabric in urban slums and rural areas, which endorses health awareness and offers preliminary remedial assistance, can help distribute the burden across the public healthcare infrastructure and enable affordability. Primary healthcare centres are smaller, more cost-effective to set up and can act as an initial shield for more serious health issues in such areas, eventually branching out to medical sub-centres in each village.
There also exists a need for well-equipped speciality hospitals in every district, which would cater to the rural population from each of the district's talukas. However, building speciality hospitals in rural areas and achieving optimal built quality is still an uphill challenge for government-funded healthcare buildings. Solving this issue through biophilic and interactive design interventions could help in improving the standards of public healthcare, while regulating construction costs. Adopting simple processes to prioritise critical healthcare services and conceptualising design solutions keeping all stakeholders such as patients, doctors, nurses and staff etc., in mind can ensure public healthcare facilities have low maintenance costs and are affordable to the communities they serve.
An example would be the adoption of Building Information Modelling (BIM), which helps determine geometry, shape, volume and height of buildings, aiding in pre-empting problems and shortening the time of construction to save costs. Designs can be engineered and completely built-in 12 months using modular technology to bolster healthcare infrastructure quickly.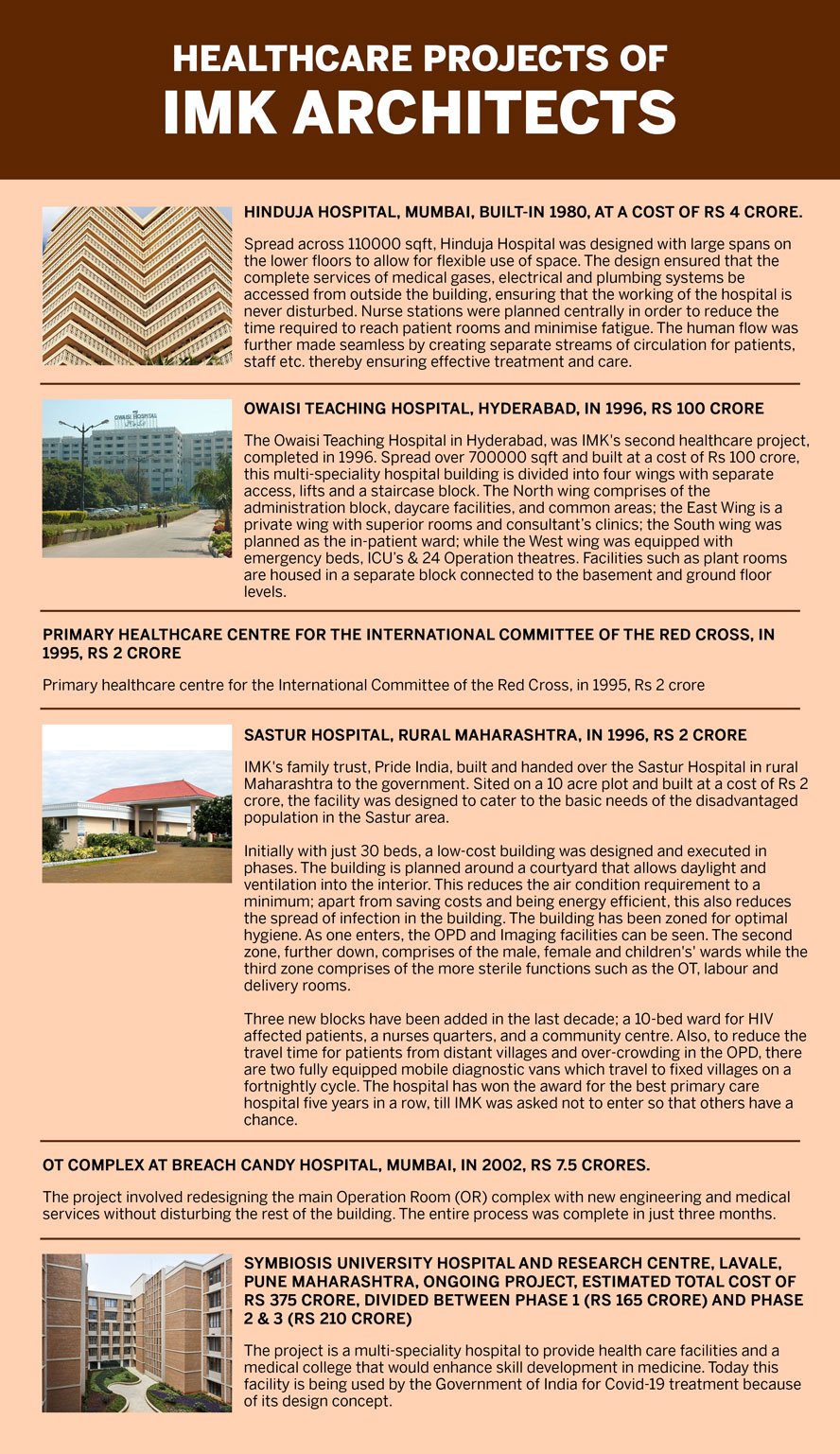 Has IMK Architects worked with the government on such facilities?
Yes, we have designed two primary health centres in rural Maharastra. One centre was for the International Committee of the Red Cross, which was handed over to the Maharashtra government. The other was the first PPP hospital between the Government of Maharastra and Pride India, an NGO managed by the Kadri family, which has been an extremely successful pilot project. Located in Sastur in Osmanabad district, it currently serves over 150 villages in the area.
Given the impact of COVID-19 on healthcare, how will/has the SAR-CoV-2 / COVID-19 pandemic changed the concepts of hospital design and architecture?
A few common issues that plague current hospitals are inadequate day-lighting, poor ventilation systems leading to cross-infection, greater building widths leading to improper day-light, wide buildings that result in doubly-loaded corridors with no connection to the outside, high energy costs and maintenance problems.
Cross-infection and contamination can be tackled through design changes such as naturally-ventilated spaces that increase the rate of natural air exchange, segregation of different functions by creating general, semi-sterile and sterile zones (for example, waiting for areas to OPDs to ICUs) and creating buffer zones in between.
Designing the building with an East-West orientation to improve daylight, providing centralised courtyard landscapes to provide passive evaporative cooling, and adding solar panels to reduce dependency on conventional forms of electricity, are some ways to optimise building energy consumption and improve efficiency. Also, designing decentralised micro-service zones that run parallel to various departments can help make regular servicing and maintenance easier and quicker.
Have IMK Architects being asked to look into the renovation of existing healthcare facilities to make them 'pandemic proof'?
Yes. Still at its nascent stage, but we've been approached to seek advice on existing hospitals in the state.
Is the Symbiosis Medcity completed?
The proposal for Symbiosis Medcity was changed into the Symbiosis University Hospital and Research Centre (SUHRC) in Lavale, Pune, of 216 beds in Phase 1, which is complete and functioning as a COVID-19 hospital currently.
Phase 2 of the project, a hospital comprising 600 beds stands complete too, while Phase 3 is currently under construction. Phase 3 for SUHRC is the teaching hospital campus, consisting of two buildings with 600 beds and all requirements for MCI year one are completed and handed over. The third building intended for the second year of MCI norms is currently under construction.
How was the design concept of the SUHRC facility found suitable to be used by the Government of India to treat COVID-19 patients?
Some of the key features of design which are helping SUHRC serve the Covid-19 and other patients well are:
An OPD with no air-conditioning but rather allows for fresh, natural air while ensuring sufficient ventilation.
All departments and spaces of the hospital have courtyards on both sides and are naturally ventilated, lowering the level of cross-infections
Keeping sterility in mind, the courtyard is non-accessible, full of plants and small trees, etc. to avoid the risk of contamination and maintenance.
The critical areas such as OTs, Pre-Op and Post Op, ICU' Cath, etc. are planned on the second floor, making it the sterile zone and thus are also segregated from other areas of the hospital.
The three blocks of the hospital, namely, the general hospital block, the procedure block, and the multi-speciality block, all have been planned to keep in mind the ease of functionality and avoid criss-cross movement
Resolving issues like cross-infection, segregation of sterile and non-sterile zones, reducing costs of maintenance through better designing as well as using energy-efficient materials and technologies for improved construction can help improve the healthcare system in India.
For original article refer the post- Click Here